Ozone Generators & Electric Controls
APG Series Ozone Generators
RK-APG-1,RK-APG-2,RK-APG-3
Standard Features
Featuring Advanced Plasma Gap technology, all APG systems are compatible with any operating voltage and do not require desiccant air dryers to properly function. Our APG Series ozone generators offer improved water quality and clarity while reducing the amount of chlorine and chemicals used within your display. Units oxidize up to 99.99% of harmful microorganisms, while eliminating oils, lotions and other contaminants from your water. Each APG System is designed to offer customers a high output / low energy cost solution with a simple and inexpensive cost of ownership. Use of our systems will further aid in the reduction of wear and tear on additional life support equipment used within your life support system.
All APG Series units offer the following:
Auto Voltage Sensing
APG Ozone Technology
95-250V, 50/60Hz
Wall Mounted
+ 5 Years Ozone Cell Life
NSF/UL Listed
1 Year Warranty
RK-APG-1- and RK-APG-2: 7.8"W x 14.1"H x 3.2"D
RK-APG-3: 7.8"W x 21.3"H x 3.2"D
Model
Recommended Air Flow Rates
Max Power Consumption
@ 120VAC 60 Hz. /
@ 220 VAC 50 Hz.
Dimensions LHW (inches)
Weight
Recommended Skimmer Models
Manuals
RK-APG-1
12 SCFH/5 LPM
.1 Amps @ 120 VAC 60 Hz.
.05 Amps @ 240 VAC 50 Hz.
8" x 14.3" x 3.2"
10 LBS./4.5 KGS
X-Flo 6-2.5/X-Flo 6-3.5
RK-APG-2
12 SCFH/5 LPM
.2 Amps @ 120 VAC 60 Hz.
.1 Amps @ 240 VAC 50 Hz.
8" x 14.3" x 3.2"
10 LBS./4.5 KGS
RK10AC
RK-APG-3
15 SCFH/7 LPM
.31 Amps @ 120 VAC 60 Hz.
.15 Amps @ 240 VAC 50 Hz.
8" x 21.5" x 3.2"
15 LBS/6.8 KGS
RK25PE/RK50PE
* All models are avialable with ORP Controller and Probe
Plasma Ozone Systems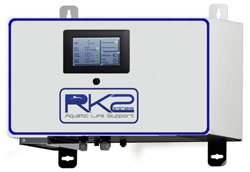 RK2G-Plasma
Smart Ozone Systems for the Public Aquarium and Aquaculture Industries
Ozone, What is it?
Ozone is a powerful oxidizer that can safely be used in multiple industrial and commercial applications. It helps break down organic molecules, renders dissolved metals insoluble and oxidizes inorganic contaminants. Ozone is formed when highly energetic radiation strikes molecules of oxygen and cause the two oxygen atoms to split apart in a process called photolysis. The freed atom collides with another oxygen molecule and joins it, forming ozone.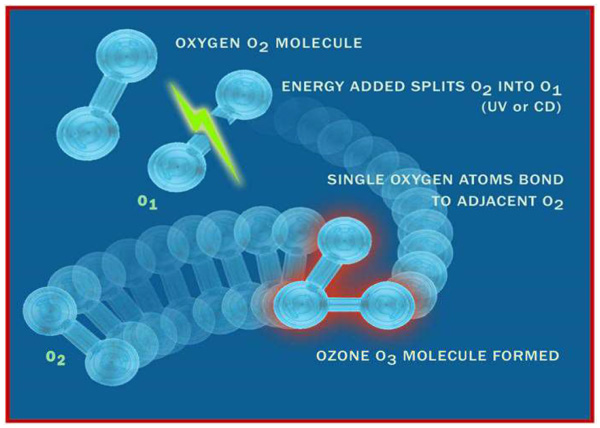 Benefits of Ozone
Ozone will help kill harmful microorganisms including Fecal Coliforms commonly associated with marine mammal exhibits. In exhibits with underwater viewing panels, ozone will help improve water clarity by breaking down organic and tannins in the water column. Ozone can also help to control chloramine levels and reduce chlorine consumption within exhibits utilizing chlorination systems. Most importantly, ozone is a safe, sustainable and environmentally friendly oxidizer. Being a three-part oxygen molecule, ozone dramatically increases oxygen concentration.
Ozone and Foam Fractionation Combined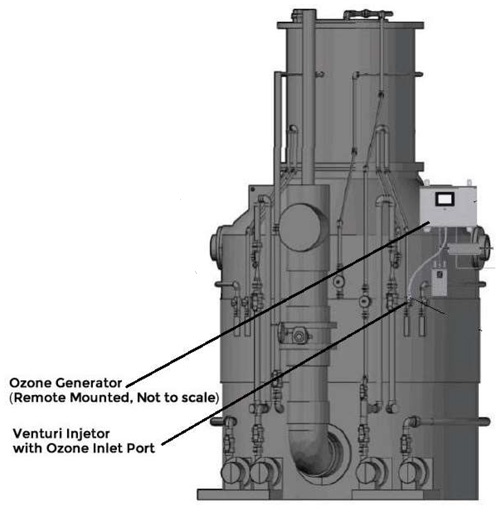 Ozone injection enhances the foam fractionation process. The ozone breaks down larger organic molecules which facilitates their removal by foam fractionation. The foam fractionation and ozone combination is extremely effective in a variety of applications. Grow-out tank and aquaria display with a heavy biological load will become remarkably cleaner. Clean systems such as larval rearing or live animal holding tanks can become exceptionally clear. This combination is excellent for recirculating aquaculture systems, (RAS), for both finfish and shellfish alike.
Plasma Ozone Technology
Developed by a major university's plasma lab team, RK2 Plasma Ozone Systems provide the aquarium and aquaculture industries with real time ozone functionality. These units check their own operational performance and the information is displayed on our full color high definition HMI touchscreen. The ORP level, (Oxidation Reduction Potential), provides an exact analysis of your aquatic system. Our ORP read-out lets you know immediately the health of the water with no guesswork as to whether the ozone system is operating correctly. With an extremely low energy consumption and our user-friendly HMI interface, RK2's Plasma Ozone Systems are perfectly suited for the 21st century.

Features
Control, Protection, System Information
Oxidation Reduction Potential, (ORP)
Ozone Cell Health
Ozone Gas Flow
Ambient Air Temperature
Internal Ozone Gas Leak Detection
Model Chart & Dimensional Info
Model
Recommended Air Flow Rates
Power Consumption
100-250VAC 50/60Hz
Dimensions (inches)
LENGTH X HEIGHT X WIDTH
Weight
Concentration By Weight
Recommended Skimmer Models
2G-PLASMA
21 SCFH/10 LPM
115 watts
16" X 10" X 8"
16 LBS./35 KGS
.3% by weight
RK10AC/RK25PE/RK50PE
5G-PLASMA
12 SCFH/6 LPM
85 watts
16" X 10" X 8"
16 LBS./ 35 KGS
1.5% by weight
RK75PE/RK75-HF/RK150PE/RK150PE-HF
10G-PLASMA
12 SCFH/6 LPM
145 watts
16" X 10" X 8"
16 LBS./35 KGS
2.5% by weight
RK300PE/RK300PE-HF
RK600PE/RK600PE-HF
RK1000PE/RK2000PE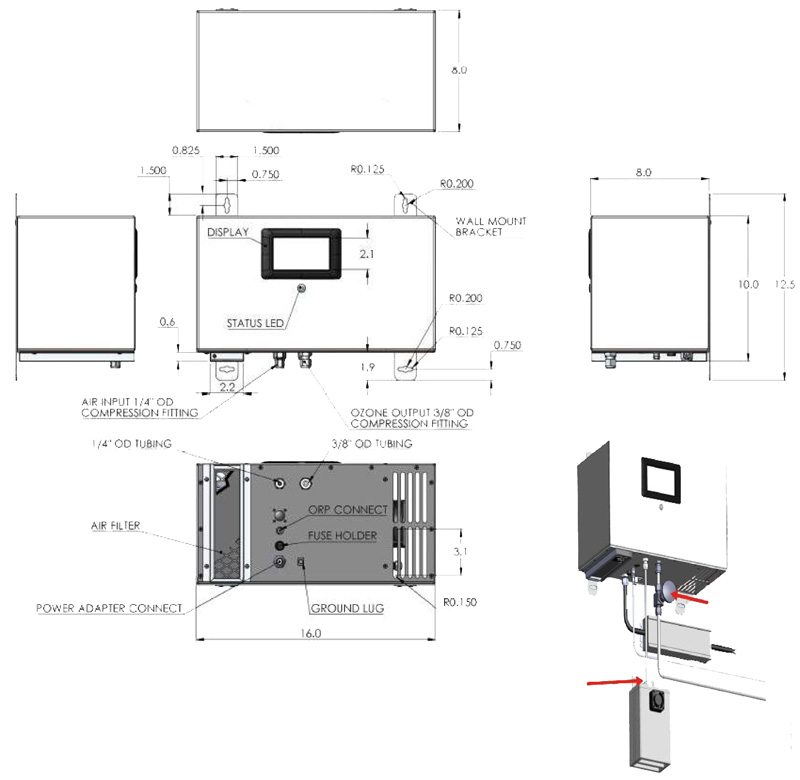 System Controller/Monitor
Until now, performing even the simplest functions with a controller required technical or electronic expertise. The RK2 Systems - System Controller/ Monitor makes maintaining the optimum aquatic environment easy.
Our RK2 Systems - system controller/ monitor is constructed with only the highest quality components. The heart of our system controller / monitor is an INTEL microprocessor which manages all of the activities of the controller gathered by the controller is processed digitally. Our RK2 Systems controller/ monitor Architecture includes Digital Signal Processing (DSP) hardware and software that provides accurate and repeatable readings over the life of the System Controller.
In addition, the microprocessor design provides unsurpassed flexibility, as reflected by the variety of the software options that are available for our control/monitoring system.
RK2 System Controller/ Monitor includes the following features: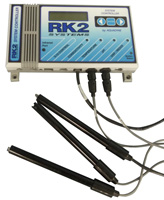 RK2 ORP Temperature
PH Controller w/probes
Continuous monitoring of conductivity, water temperature, pH and oxidation reduction potential (ORP).
H2O/STM software with menu-driven programming environment.
Auxiliary Input supports power failure, water level or pressure alarming.
FLASH memory that makes upgrading with your System Controller with new H2O/STM software a simple task.
Local audible alarm or optional remote dial-up pager alarm capability.
Parameter control capability for management of peripheral equipment such as pumps and lighting.
Powerful data logging capability that holds up to 7-days of probe data.
Operates on 9V AC or on an optional 9V DC battery backup.
Optional X-10 support for up to 255 control outputs.
An infrared Data Port that supports an optional hand-held HP printer for data reporting and graphical analysis.
Single communication port supporting both direct connection to a PC or remote modem communication.