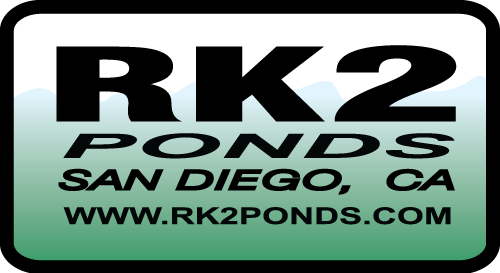 Creating Quality Water
Sales
M-F
9AM - 5PM (EST)
760.746.7400

Freshwater Protein Fractionators
Can I use Protein Fractionation in Freshwater Applications? The answer is YES!
We spent years refining our protein fractionator designs to be able to offer you the most effective freshwater system available.
Protein Fractionation filtration removes suspended particulates, dissolved organics, proteins and tints. At the same time, protein fractionation lowers bacteria and pathogen concentrations, while saturating the water with oxygen. Traditional water filtration systems, (i.e: pressurized sand filters, bead filters and cartridge filters), remove particulates but are ineffective against dissolved wastes and act as breeding grounds for bacteria and pathogens.
Water that is filtered through traditional filters is constantly sieved through the trapped wastes. Similar to that of a tea bag, this action leaches bacteria, dissolved organics and tints back into the water. The media in the filter functions as a bio-filter, promoting bacteria, which in turn strip out oxygen. Consequently, the discharge from these filters is generally enriched with bacteria and dissolved organics as well as having reduced oxygen concentration.
The fractionation filtration process is simple and highly effective. Air, (in some cases ozone as well), are injected into the bottom of the reaction chamber via an ozone resistant venturi injector. The water to be filtered is introduced at the top of the chamber and exits at the bottom. This creates a mass mixing effect, with the water traveling cross current to the air, which is essential for the effective formation of foam. The foam rises through the column and becomes more concentrated as it passes into the upper rise tube. The tube allows for the water to drain back into the tank via gravity, while the concentrated foam is ejected over the top of the riser tube and collected into a waste drain. The upper chamber is automatically washed down with rinse systems that keep the surfaces clean and prevent the foam from drying and inhibiting the ejection process.
The quality is in the details
Honeycomb style cone riser assembly specifically designed for freshwater fractionation.
Enhanced air injection for excellent protein and dissolved organic removal, also excellent oxygen saturation in freshwater.
All Non-corrosive materials and construction, 316 stainless steel hardware.
Battery powered LCD wash down timer for low manual labor cleaning * 120/240V 50/60Hz available.
All models ozone ready.

RK75PE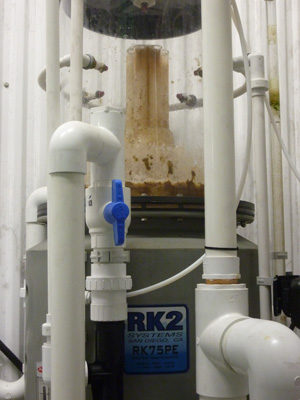 RK75PE
Specification Sheet (Standard)
RK2 SYSTEMS MODEL
WATER FLOW RATE
@2 MIN. CONTACT TIME
WATER FLOW RATE
@1.5 MIN. CONTACT TIME
WATER FLOW RATE
@1 MIN. CONTACT TIME
REACTION CHAMBER DIAMETER
VENTURI PUMP MODEL NUMBER AND QUANTITY REQUIRED
TOTAL HEIGHT FROM FLOOR TO TOP OF FRACTIONATOR
DIMENSIONAL FOOTPRINT
DRY WEIGHT
OPERATIONAL WEIGHT
RK25PE-FW
20 GPM
35 GPM
14"
45022.504 - 115/230V 60HZ 1 PH
45026.104 - 220V 50HZ. 1 PH
QUANTITY 1
77"
24" X 36"
102 LBS
440 LBS
RK50PE-FW
40 GPM
60 GPM
20"
45052.304 - 115/230V 60HZ 1 PH
45056.104 - 220V 50HZ. 1 PH
QUANTITY 1
99"
32" X 44"
220 LBS
1,050 LBS
RK75PE-FW
70 GPM
105 GPM
24"
45072.304 - 115/230V 60HZ 1 PH
45076.104 - 220V 50HZ. 1 PH
QUANTITY 1
102"
32" X 44"
235 LBS
1,400 LBS
RK75PE-HF-FW
105 GPM*
140 GPM*
24"
45102.304 - 115/230V 60HZ 1 PH
45106.104 - 220V 50HZ. 1 PH
QUANTITY 1
102"
32" X 44"
235 LBS
1,400 LBS
RK150PE-FW
155 GPM
230 GPM
36"
45152.304 - 115/230V 60HZ 1 PH
45156.104 - 220V 50HZ. 1 PH
QUANTITY 1
101"
41" x 54"
365 LBS
2,980 LBS
RK150PE-HF-FW
230 GPM*
310 GPM*
36"
45202.304 - 115/230V 60HZ 1 PH
45206.104 - 220V 50HZ. 1 PH
QUANTITY 1
101"
41" x 54"
365 LBS
2,980 LBS
RK300PE-FW
290 GPM
435 GPM
48"
45202.304 - 115/230V 60HZ 1 PH
45206.104 - 220V 50HZ. 1 PH
QUANTITY 1
110"
54" x 66"
440 LBS
5,080 LBS
RK300PE-HF-FW
435 GPM*
580 GPM*
48"
45202.304 - 115/230V 60HZ 1 PH
45206.104 - 220V 50HZ. 1 PH
QUANTITY 1
110"
54" x 66"
440 LBS
5,080 LBS
RK600PE-FW
585 GPM
890 GPM
60"
45202.304 - 115/230V 60HZ 1 PH
45206.104 - 220V 50HZ. 1 PH
QUANTITY 2
144"
69" x 78"
750 LBS
10,685 LBS
RK600PE-HF-FW
890 GPM*
1,190 GPM*
60"
45202.304 - 115/230V 60HZ 1 PH
45206.104 - 220V 50HZ. 1 PH
QUANTITY 2
144"
69" x 78"
750 LBS
10,685 LBS
RK1000PE-FW
1,100 GPM
1,650 GPM
84"
45202.304 - 115/230V 60HZ 1 PH
45206.104 - 220V 50HZ. 1 PH
QUANTITY 4
144"
92" x 114"
900 LBS
20,375LBS
RK2000PE-FW
1,500 GPM
2,000 GPM
84"
45202.304 - 115/230V 60HZ 1 PH
45206.104 - 220V 50HZ. 1 PH
QUANTITY 4
168"
94" x 114"
1,200 LBS
25,540 LBS
PRO SERIES MODELS AVAILABLE AND INCLUDE THE FOLLOWING - SCHEDULE 80 PVC PLUMBING, ELECTRONIC WASH DOWN ASSEMBLES FOR INTERNAL AND EXTERNAL RINSE SYSTEMS, OZONE DESTRUCT AIR INLET VENT AND BULKHEAD FITTINGS IN PLACE OF FLEXIBLE TANK ADAPTERS
* HF MODEL FLOW RATES REFLECT 1.5 - 1 MINUTE CONTACT TIMES
Specification Sheet (Metric)
RK2 SYSTEMS MODEL
WATER FLOW RATE
@2 MIN. CONTACT TIME
WATER FLOW RATE
@1.5 MIN. CONTACT TIME
WATER FLOW RATE
@1 MIN. CONTACT TIME
REACTION CHAMBER DIAMETER
VENTURI PUMP MODEL NUMBER AND QUANTITY REQUIRED
TOTAL HEIGHT FROM FLOOR TO TOP OF FRACTIONATOR
DIMENSIONAL FOOTPRINT
DRY WEIGHT
OPERATIONAL WEIGHT
RK25PE-FW
76 LPM
133 LPM
35.56 CM
45022.504 - 115/230V 60HZ 1 PH
45026.104 - 220V 50HZ. 1 PH
QUANTITY 1
195.58 CM
61.96 CM X 91.44 CM
47 KG
200 KG
RK50PE-FW
152 LPM
228 LPM
50.80 CM
45052.304 - 115/230V 60HZ 1 PH
45056.104 - 220V 50HZ. 1 PH
QUANTITY 1
251.46 CM
81.28 CM X 86.36 CM
100 KG
477 KG
RK75PE-FW
265 LPM
398 LPM
60.96 CM
45072.304 - 115/230V 60HZ 1 PH
45076.104 - 220V 50HZ. 1 PH
QUANTITY 1
259.08 CM
81.28 CM X 86.36 CM
107 KG
636 KG
RK75PE-HF-FW
398 LPM*
530 LPM*
60.96 CM
45102.304 - 115/230V 60HZ 1 PH
45106.104 - 220V 50HZ. 1 PH
QUANTITY 1
259.08 CM
81.28 CM X 86.36 CM
107 KG
636 KG
RK150PE-FW
587 LPM
871 LPM
91.44 CM
45152.304 - 115/230V 60HZ 1 PH
45156.104 - 220V 50HZ. 1 PH
QUANTITY 1
256.54 CM
104.14 CM X 137.16 CM
166 KG
1,352 KG
RK150PE-HF-FW
871 LPM*
1,174 LPM*
91.44 CM
45202.304 - 115/230V 60HZ 1 PH
45206.104 - 220V 50HZ. 1 PH
QUANTITY 1
256.54 CM
104.14 CM X 137.16 CM
166 KG
1,352 KG
RK300PE-FW
1,098 LPM
1,647 LPM
121.92 CM
45202.304 - 115/230V 60HZ 1 PH
45206.104 - 220V 50HZ. 1 PH
QUANTITY 1
279.40 CM
137.60 CM X 167.64 CM
200 KG
2,305 KG
RK300PE-HF-FW
1,647 LPM*
2,196 LPM*
121.92 CM
45202.304 - 115/230V 60HZ 1 PH
45206.104 - 220V 50HZ. 1 PH
QUANTITY 1
279.40 CM
137.60 CM X 167.64 CM
200 KG
2,305 KG
RK600PE-FW
2,215 LPM
3,370 LPM
152.40 CM
45202.304 - 115/230V 60HZ 1 PH
45206.104 - 220V 50HZ. 1 PH
QUANTITY 2
365.76 CM
175.26 CM X 198.12 CM
341 KG
4,847 KG
RK600PE-HF-FW
3,370 LPM*
4,505 LPM*
152.40 CM
45202.304 - 115/230V 60HZ 1 PH
45206.104 - 220V 50HZ. 1 PH
QUANTITY 2
365.76 CM
175.26 CM X 198.12 CM
341 KG
4,847 KG
RK1000PE-FW
4,164 LPM
6,246 LPM
213.36 CM
45202.304 - 115/230V 60HZ 1 PH
45206.104 - 220V 50HZ. 1 PH
QUANTITY 4
365.76 CM
233.68 CM X 289.56 CM
409 KG
9,242 KG
RK2000PE-FW
5,679 LPM
7,571 LPM
213.36 CM
45202.304 - 115/230V 60HZ 1 PH
45206.104 - 220V 50HZ. 1 PH
QUANTITY 4
426.72 CM
238.76 CM X 289.56 CM
545 KG
11,585 KG
PRO SERIES MODELS AVAILABLE AND INCLUDE THE FOLLOWING - SCHEDULE 80 PVC PLUMBING, ELECTRONIC WASH DOWN ASSEMBLES FOR INTERNAL AND EXTERNAL RINSE SYSTEMS, OZONE DESTRUCT AIR INLET VENT AND BULKHEAD FITTINGS IN PLACE OF FLEXIBLE TANK ADAPTERS
* HF MODEL FLOW RATES REFLECT 1 - 1.5 MINUTE CONTACT TIMES